Home
›
Deluge Help
Please familiarise yourself with the forum, including policy on feature requests,
rules & guidelines
Icoustik @ Deluge Dozen #1 - Live-looping workflow
Icoustik
Norway
Moderator, Beta Tester, Mentor
Posts: 1,008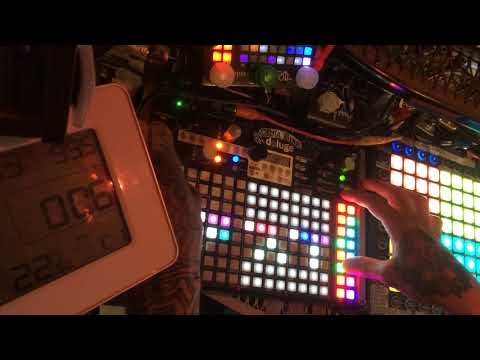 My contribution to the Deluge Dozen #1 first special online event by Synthstrom Audible on Synthstrom TV. 'Make a track in 12 mins and then jam for another 3 mins', using Deluge only to produce sounds.
This is a simplified approach to my workflow of live-looping and creating+performing interchangably, using a template with acoustic drum samples, some multisample instruments, and audio clips for looping ready to go.
1) Using the Launchpad Pro to play sounds from the Deluge, and a MIDI footswitch, I live-loop the drums with an OUTPut-source (i.e. internal resampling) audio clip that records the internal sound, and this clip then sets the tempo of the song.
2) I play some "chucks/ skanks" or whatever you'd like to call them, using a multisample piano, and start looping it with an empty auto-extending instrument clip, via the panel controls. I then close the loop with the footswitch.
3) After simmering into the vibe a bit with some acoustic percussion, I start shaping my idea for a bassline, using a bass guitar multisample (from this pack: https://forums.synthstrom.com/discuss... ), and then record another auto-extending instrument loop with it, 16 bars long for some variation and less repetitiveness. Once again closing the loop with footswitch right at the end of the measure.
4) A few reverb splashes, then I record some chords with a handpan multisample instrument. I make some quick adjustments to its volume level and crank up the reverb.
5) A bit more dub action with reverbs and delays before I start shaping and then recording a percussion track using some synth drums. I'm not satisified with the first take, so I undo the recording after one cycle, and ease into a new recording on the next measure.
I notice that the percussion is a bit loud, so I turn down the clip volume level, and apply a slight bit of filtering to it.
6) Some more dubness, and muting some clips for variation, then I drop in a rainforest ambience sample, and pitch it down for some weirdness and spacey bird sounds.
Applying a little filtering to this clip as well. Then a little more jammin & slammin.
7) Next I set up a drum kit clip to change up to double-time, to seamlessly mute the old drumloop audio clip while unmuting the kit clip. But first, I filter the percussion some more, and pitch down the ambience sample further before changing up the drums.
8) Playing around a little, then I switch the cross-stick in the drumkit up again to make a classic steppas rhythm.
9) Just vibin, dubbin, chillin.
10) Time for a bassline variation. I unmute the old bassline and seamlessly drop into playing. Get into it for a bit, then record another 16 bar loop.
11) More jammin! Dubwise, and some voice samples from one of the first videos showcasing Deluge, back when it was just a baby! Featuring my dawg Ian Jorgensen reppin Synthstrom since the humble beginning.
And that's a wrap!
Post processing with Strymon Deco and some EQ.
---
Big shout outs to Synthstrom, Ian & Rohan!!
~ Distinguished Delugate ᕕ( ◎_◎)ᕗ
Post edited by Icoustik on