Home
›
Please familiarise yourself with the forum, including policy on feature requests,
rules & guidelines
August 2018 Community Newsletter
Ian_Jorgensen
Wellington, New Zealand
Posts: 575
Deluge US Tour
Deluge 2.0.2 firmware bugfix update
Desert Island Synth
2.1 Firmware Feature Tease: Waveform View
Europe Photos
Wait List / Sold Out
DELUGE US TOUR
Lots of big news in this newsletter, but among the most exciting is that we're heading to the US very soon for a mix of live performances, workshops and demos! Please come along and hang out, and, if you're a current user and are keen to play a short set (5 mins or more) at the LA, Portland or Seattle events, please get in touch! (ian@synthstrom.com)
Aug 24th, Los Angeles, CA at Coaxial Arts - Demo/Workshop and live performances
Aug 25th, Bishop, CA at Mountain Rambler Brewery - Live performance by Ian Jorgensen only*
Aug 26th, San Fran, CA at Noisebridge - Demo/Workshop (Meetup event)
Aug 27th - Arcata, CA at The Miniplex - Live performance by Ian Jorgensen only*
Aug 28th - Portland, OR at Valentines - Demo/Workshop
Aug 29th - Seattle, WA at Chop Suey - Demo/Workshop and some short live performances
Sept 5th - Brooklyn, NYC at Private Studio - RSVP required - Demo/Workshop
Sept 7th - Northeast Electro Music Festival, Homer, NY - Demo, Workshop and live performance
Sept 8th and 9th - KnobCon - Chicago, IL - Trade show and live performance
Further details (timing etc) will be announced HERE soon and also on the FB event for this tour.
Other East Coast cities? If you have a space you could host a small event at, let me know and Ian might be able to make it to your city, even just a studio that ten people could hang out in: ian@synthstrom.com
*The Bishop and Arcata events are simply a live Deluge performance by Ian Jorgensen from Synthstrom Audible who will be playing on a bill along with Vaporwave legend from New Zealand, Eyeliner and the LA based Limousine - details on that tour here: www.alowhum.com
## Deluge firmware 2.0.2 (bugfix update)
As you would have heard by now, our epic new 2.0 firmware is out. Well, Rohan has recently just released a bug-fix update as well, 2.0.2, so make sure you update to get the full benefits.
You'll find details about the 2.0 update HERE (the link there will download 2.0.2, the latest update)
INCLUDES:
Song arranger mode
30 - 50% or more improvement to CPU efficiency (i.e. more voices)
Around 30x more RAM available for working on a song
New analog-modelling synth engine features
Effect tails may now be heard even after a track finishes playing (including outside of the new arranger mode)
MIDI CC, pitch bend, and channel aftertouch recording, sequencing and output
MIDI note outputs within kits
Note velocity now defaults to that of last touched note (per track)
Innumerable other bugfixes and improvements
Arranger mode - basics video with Ron Cavagnaro
Some great videos of the new arranger mode in action:
Including this by Dojo Jones (pictured above)
and by Krzysztof Steplowski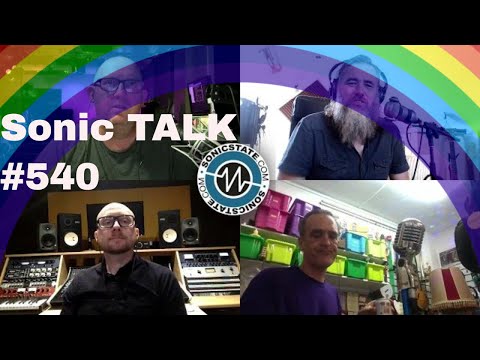 ## ## Desert Island Synth
Recently we were blown away when in a discussion about their "Desert Island Synth's", both Gaz and Nick of Sonicstate.com suggested the Deluge. So honoured.
Discussion starts around the 45min point.
## 2.1 Firmware Feature Tease: Waveform View
We're still a while away from the release of our next update, 2.1, but Rohan is working on some amazing new features and we thought we'd show you one of the new features that he has been developing, 'Waveform View'.
On Facebook
On YouTube
Don't expect to see this update released till late 2018, lots more features to come
Europe Photos
We recently got back from a fun demo/workshop tour around Europe including several live shows by Ian and a special performance by Marika Pratley performing an ambient Deluge set on an original 32 pad "sugarcube" Deluge in Meteora, Greece (pictured above).
Check out some photographs from the trip on our Instagram, and follow our Insta to see photos from the upcoming US trip. See all our users posts who have tagged us on Insta: #synthstromdeluge
Wait List / Sold Out
As maybe you've heard, we are currently out-of-stock of the Deluge, orders post Superbooth went kinda crazy. You can still place an order to guarantee one from the next batch. We currently cannot offer a firm date on delivery, though we expect this to be within a few months' time.
If we cannot supply within 3 months of placing your order, we are happy to offer a full refund if you do not wish to continue waiting.
If instead of placing on backorder you wish to simply go on a wait list to be notified when they are next on sale, please enter in your contact details HERE
Post edited by Ian_Jorgensen on