Home
›
Open Source
Please familiarise yourself with the forum, including policy on feature requests,
rules & guidelines
Master Compressor
reza
los angeles
Moderator, Beta Tester
Posts: 522
Merged with Community Firmware!
This feature's implementation started with @Alter
GitHub Documentation | Documentation 2
Master Compressor
Allows a-per-project master compressor to be enabled and fine tuned.

In Song view, select 'Affect Entire' and SIDECHAIN modulation button, and adjust the upper gold knob. Push the upper gold knob to switch to the next setting (Threshold (dB), Makeup Gain (dB), Attack (ms), Release (ms), Ratio, MIX). The LEDs next to the knob act as a gain reduction meter.

This compressor function can be turned on/off in the runtime feature setting.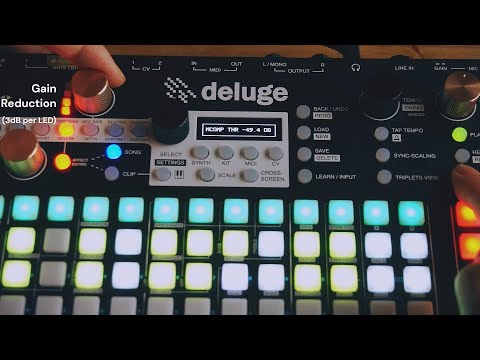 The button combinations and display in the video are different from the current implementation.
Discuss this feature, provide video/audio examples, etc.