Home
›
Please familiarise yourself with the forum, including policy on feature requests,
rules & guidelines
TouchOSC + Deluge make a great pair!
flocolores
Cologne, Germany
Beta Tester
Posts: 4
(I guess this is the right spot to post this, but feel free to move it anywhere...)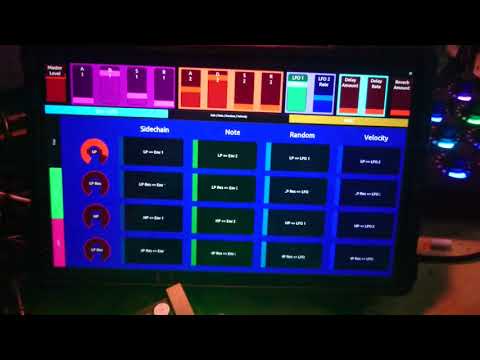 TOSC is an app for Android+Iphone that let's you create MIDI- and OSC-GUIs with a powerful editor. You can build any kind of MIDI controller with faders, radial encoders, XY-pads, buttons and more. Just hook up your tablet with the Deluge using a USB MIDI interface (about 10€) and edit away...
As my first project, I wanted to have control over every single mappable control of a basic subtractive synth patch. Turned out to be more than 230... So here it is

I'm quite happy with the result, although I'm not sure I'll use it a lot. It could be cool for sound design of new patches, but obviously, with the Deluge not sending MIDI out info of all the parameters (yet?), it's use is a bit limited.
I started with a subtractive synth, but I guess it would be a lot more useful for FM synthesis. I'd love to see someone building a TOSC patch for that who knows FM better than I do...
Other purposes could include a mixer, or having a lot of fx controls at hand, or using XY pads for fx, or... What would you build? Let me know!
Btw, I'm using MIDI channels 11+12 to send. I guess you could change the TOSC file so you can select the channels it's using, but I couldn't be arsed to learn scripting with LUA. Maybe someone else would like to do it? Feel free to use & change the files!
TouchOSC: https://hexler.net/touchosc
.tosc-file+synth-patch: https://www.dropbox.com/s/x0k2y8u09azfxjw/tOSC Deluge MIDI mapping.zip?dl=0