Home
›
User Songs, Videos, Performances
Please familiarise yourself with the forum, including policy on feature requests,
rules & guidelines
A/V setup with Pyramid, Deluge and Touchdesigner
shippy_trapper
vienna
Beta Tester
Posts: 11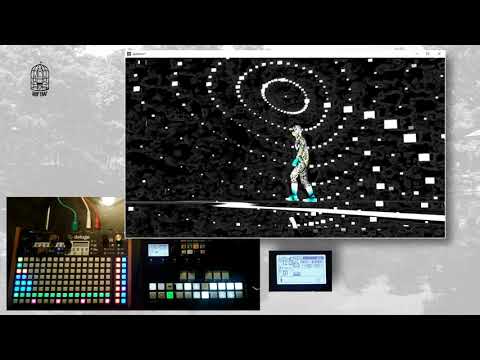 Just wanted to share this track i made with an AV live setup using a pyramid, a deluge and touchdesigner.
The pyramid controller sends midi to the deluge triggering sound and at the same
time to touchdesigner via usb triggering a rigged 3D character(with mask) and all kinds of stroby geo, textures and fx.
three tracks on the pyramid for synths(1-3) each triggering 2 synths simultaneously on the deluge. these also have cv info send to the envelopes and delay.
track 5-8 is the rhytm section (claps, hats, snares, kicks)
track 11 is a vocal sample (its bill hicks mock-singing rick astley)
track 12 is the 3D camera
track 14 are amen shreds
track 15 are amen samples
i will make another video that shows what is going on in touchdesigner later.
& if you like it or wanna support me doing this you can grab it over here:
its pay as you wish, just enter 0 for a free download.
https://shiptrap.bandcamp.com/track/rigging