Home
›
News
Please familiarise yourself with the forum, including policy on feature requests,
rules & guidelines
3.0 feature tease: QWERTY keyboard & new top panel labels.
Ian_Jorgensen
Wellington, New Zealand
Posts: 536
edited March 2019
in News
Note from Rohan & Ian.
We had a big, exciting announcement planned for yesterday.
However, as many of you will have heard, a horrendous act of terrorism rocked our little country of New Zealand a short time ago. As a nation we're in a state of shock and have been taking time to mourn.
Our hearts go out to the victims, their families and their community. Hate and intolerance have no place in the world, and we feel more resolved than ever to stand for diversity and acceptance of all cultures, races, genders, sexual orientations, and religions. We hope our users and friends worldwide feel the same way and will be kind to their neighbours too, whoever they are.
As our planned announcement relates directly to Deluges we've already shipped to users in the past couple of days, which are quickly working their way through the international courier network, we're going ahead and announcing our news, which would be out very shortly in any case. However, the rest of our announcement will take a slightly more sombre tone than usual, as reflection and coming to terms with what's happened become our focus for a time.
---
The upcoming V3.0 firmware and QWERTY keyboard mode
Changes to the labelling printed on Deluge top panels - including yours if you haven't received it yet
Firmware V3.0 / QWERTY
This major software update will be out later this year. Development is still underway and there will be a lot more to unveil soon, but the feature we can finally demo to you is is our new QWERTY keyboard mode.
In this mode, the Deluge's pads double as a QWERTY keyboard, allowing you to type text. This is accompanied by the ability to give your saved songs and presets actual text-based names, and quickly locate files by typing their name or first few characters. This will be a serious workflow boost for our users who have hundreds or even thousands of songs saved, or work with large libraries of samples. See the video below for a demonstration.
We'll be unveiling the V3.0 software at Superbooth in Berlin on May 9th, but will share another tease and further details on what you can expect before then - subscribe to our YouTube channel: https://www.youtube.com/c/SynthstromAudible to see first.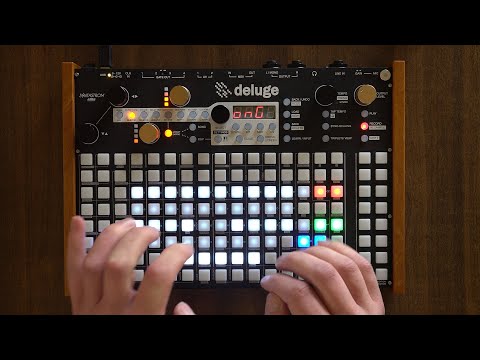 Changes to the labelling printed on Deluge top panels
To make the QWERTY keyboard feature complete, we've made some small changes to the look of our Deluge's top panel - principally that the QWERTY keyboard letters are now printed in blue next to each pad. And although V3.0 is still months away from being released, we've rolled this change out this past week in order to give the maximum number of customers the latest hardware ahead of time. If we've shipped your Deluge in the last few days, you've already got this new panel.

(Panel detail)
Beyond the QWERTY keyboard lettering, our updated Deluge panels have a few other changes to the labels printed on them - some relating to features already implemented, and others to features we'll be implementing in the future.
A few new labels have been added to the small round buttons to describe additional functions (some of them shift-functions) which have been added to these buttons via firmware updates since our initial release. The BACK button now indicates its UNDO and REDO functions; the RECORD button now indicates its RESAMPLE shift-function; the LEARN button has the word INPUT added to it, for an upcoming function to be explained closer to the release of V3.0.
You'll also notice that the TRACK button has been renamed to CLIP. We are taking the big step of renaming "tracks" to "clips" in our Deluge documentation. Since the introduction of the arranger in V2.0 almost a year ago, the word "track" has seemed like an imperfect descriptor for a sequence of notes which can then have instances placed along a higher-level arrangement timeline, which users might also visualize as a "track". "Clip" is a word familiar to users of other DAWs and hardware, meaning a low-level item which may be created, launched, or placed along a broader timeline. This change in terminology has zero effect on the way the Deluge is operated by the user.
The Deluge "shortcut" labels, too, among its main square pads, have had some minor changes made - some for features which we've already added in recent firmware versions, and some for features we will be adding in the future.
Don't panic if you don't see any reference to a feature you've been hoping for among the new shortcuts - remember that we've released five significant software updates with many new features without any need for a change to our last shortcut matrix.
The few changes to the new shortcut matrix are very simple and easy to remember if you wish to use the new layout with your old shortcut matrix. If you would however like to have the new shortcut matrix handy you can buy (LINKED) a magnetic overlay from us with the new diagram.
WAVETABLE shortcuts have been added to both oscillators - so you can probably guess what we plan to implement for those. The NOISE and OSC SYNC shortcuts have moved up one place to accommodate this addition. X and Y modulation source shortcuts have also been added, for the future addition of compatibility for receiving MIDI MPE input. There are also sample INTERPOLATION-mode shortcuts for this option which was added in V2.1 - this and the new WAVEFORM-view shortcuts take the place of the sample START and END shortcuts, whose parameters are now both accessible in waveform view. There is also a new NAME shortcut which will allow the renaming of sounds within a kit via the QWERTY keyboard, in V3.0 when it is released. We have also now used the word LEVEL instead of VOLUME everywhere on the Deluge's panel.
The new 3.0 shortcuts (including QWERTY) magnetic overlay can be pre-ordered for $20USD + $3USD shipping.
We are aiming to offer this in multiple variants, AZERTY, QWERTZ, etc. You will be able to choose your overlay before we ship.
You may choose to purchase a replacement top panel instead and replace yourself for $50USD + $18US shipping.
We will supply instructions on how to replace this, plus you'll need several tools and some moderate DIY skills. If you choose to replace the panel yourself, you do so with the understanding that you will not be covered under warranty for any damage incurred by doing so.
We aim to offer a service in the future where we can arrange replacement of the metal chassis through local service providers, maintaining warranty. For those interested, we imagine this service will cost in the region of $125-175USD including shipping.
Keep an eye on newsletters/announcements for further details on that option.
The 3.0 update will not be publicly released for a few months yet - though we won't ship overlay pre-orders straight away, you will receive yours before the 3.0 release.
Firmware V2.1.3
We ran out of character allowance on this post, so please read about this here
---
If you'd like to donate to the many families who lost loved ones in this act of terror, please consider making a contribution.
Look after each other, everyone.
Post edited by Ian_Jorgensen on