Home
›
News
Please familiarise yourself with the forum, including policy on feature requests,
rules & guidelines
3.2 Firmware Tease (MPE record and playback)
Ian_Jorgensen
Wellington, New Zealand
Posts: 614
A further tease of the MPE functionality in the upcoming 3.2 Deluge firmware. (Release date still TBA)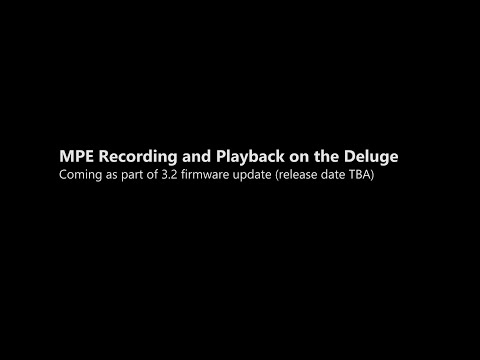 In this first part of this video you'll see a Roli Seaboard sending MPE into a Deluge, which is re-outputting it (still as MIDI) to 'Surge', an MPE supporting softsynth. The Deluge can record and playback this data. Will work with MPE supporting hardware synths also.
In the following clip, the Deluge is recording and playing back the MPE data sent from the Roli Seaboard to control the Deluge's own internal synth engine. In this case, x is controlling pitch and y is moving position within a wavetable (new feature also coming in 3.2). Z, or pressure, is controlling level and filter cutoff.