Home
›
News
Please familiarise yourself with the forum, including policy on feature requests,
rules & guidelines
4.0.0 FIRMWARE OUT NOW!
Ian_Jorgensen
Wellington, New Zealand
Posts: 614
edited April 2022
in News
We're very excited today to announce the arrival of our huge 4.0 software update.
Instructional videos and downloads links are at the bottom of this spiel.
Highlights include:
Wavetable synthesis, and improved single-cycle waveform playback.
Support for MIDI Polyphonic Expression (MPE), and similarly MIDI polyphonic aftertouch. The Deluge can receive MPE from external MIDI controllers that support it, it can record this data, and the internal Deluge synths can respond to it. And this MPE data may also be output again to an external synth.
Euclidean sequencing - per row of a clip on the Deluge. This also means that now individual rows within a clip may be set to different lengths.
Sequences can be set to play in reverse, or to ping-pong.
Synths, kits and songs may be put into folders, and the user can browse these when saving and loading.
MIDI input devices (and to a limited extent output devices) may be differentiated and treated separately, so that two devices sending on the same MIDI channel won't be confused.
Improved handling of regular MIDI pitch bend and channel pressure. Adjustable MIDI pitch bend ranges.
Sharing presets along with their audio files, with other Deluge users, is now easier.
MPE SUPPORT
This massive release makes the Deluge the first standalone hardware sequencer to offer comprehensive MPE (MIDI Polyphonic Expression) support, allowing you to record, edit and transmit expressive MPE with compatible devices. You can also use external MPE devices to get expressive with the Deluge's internal synth/sample engine. Tip: combine with the Deluge's multisample support to bring expression to everything!
EUCLIDEAN SEQUENCING & INDIVIDUAL ROW LENGTH
Euclidean note entry brings an entire new method of  beat and melody creation to the Deluge. Coupled with the ability to now make any row within a kit, any length, this infinitely broadens the scope for new rhythmic variations and ever-evolving melodies.
You can set the length of a row, dial in how many steps you would like to play on that row (automatically divided 'musically'), and then move those notes horizontally - this becomes not just a new way to make innovative rhythms, but an incredibly versatile performance tool.
PLAY-DIRECTIONS
If being able to set the length of a row wasn't enough, you can now tell the Deluge what direction (forward, reverse or ping-pong) to play-back those particular notes and not only that, you can have each and every row playing a different direction. Warning: fun.
POLYPHONIC AFTERTOUCH, IMPROVED "MONO" EXPRESSION
In bringing MPE to the Deluge, we at the same time introduced support for good ol' MIDI polyphonic aftertouch, plus you can now record both pitch bend and channel pressure (aka monophonic aftertouch) into synth, MIDI and CV clips. And, this data now stays with the clip even when you change presets or switch between clip type (e.g. from MIDI to synth etc.).
Previously, synth clips could only record pitch bend, not channel pressure, and CV clips couldn't record either.
ADJUSTABLE BEND RANGE
The Deluge is no longer stuck with a 1-octave bend range. Now, there's a global setting under DEFAults -> BEND to set the default bend range. This should default to 12 semitones (1 octave) for all existing users, it will default to the more normal 2 semitones for new users. Anyway, you can go ahead and change it.
WAVETABLE SYNTHESIS, AND IMPROVED SINGLE-CYCLE WAVEFORM PLAYBACK.
How about an entirely new form of synthesis? The Deluge will now support Wavetable files, Ringmod on the Deluge is also totally compatible with Wavetable, you may even put a separate wavetable in each of the two oscillators, with each of their wavetable-positions affecting the resulting sound.
The Deluge has always supported the playback of single-cycle waveforms by loading them as samples. But now, a technically superior option is for these to be played as a wavetable, as the wavetable engine is more fit for this purpose: it is more CPU-efficient, and will produce higher quality sound with less aliasing, particularly with high notes. It also allows the use of ringmod and oscillator sync. The wavetable-position parameter is not available when playing single-cycle waveforms, as there are not multiple cycles to interpolate between.
PRESET & SONG FOLDERS
Our users jumped for joy when we announced this new addition. You can now separate your 1 million presets and songs into folders to make navigation easier!
DIFFERENTIATING MIDI INPUT DEVICES
Now, the Deluge will differentiate between MIDI coming from different hosted USB devices, and MIDI into the input DIN port, and from a connected computer which is hosting the Deluge.
Let's say you have the Deluge hosting say a Keystep via USB (and that's through a USB hub), and you've actually learned all 16 channels from that Keystep to different synths on the Deluge. Well, then you could connect another USB MIDI device to your hub, and learn those 16 MIDI channels to yet another 16 synths on the Deluge. And whatever MIDI device is plugged into the Deluge's DIN input will have its 16 channels treated as independent yet again.
IMPROVED MODULATION MATRIX
Lastly, we've also improved our modulation matrix! - The feature where the modulation-depth of a source-param pair (or "patch cable") can itself be modulated by another modulation source – well, previously the Deluge could only handle doing this for one such patch-cable per synth. This limitation has now been removed, and you can do it for as many patch-cables as you want, subject to other existing limitations.
HAVE FUN!
INSTRUCTIONAL VIDEOS
Euclidean Sequencing, play-directions, row length: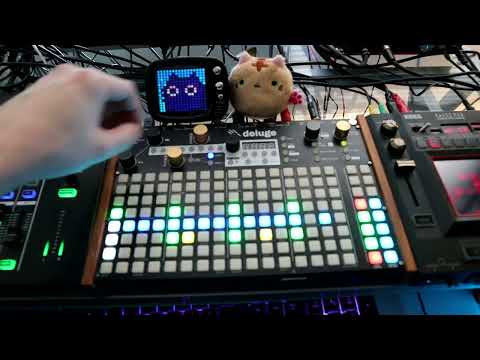 Wavetable Synthesis: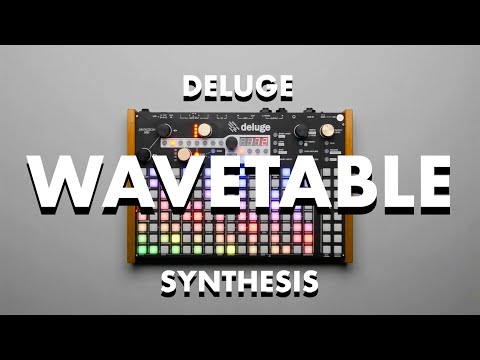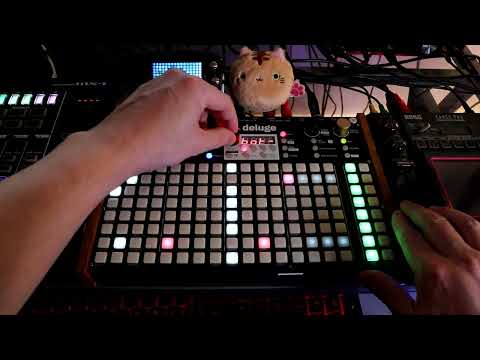 MPE: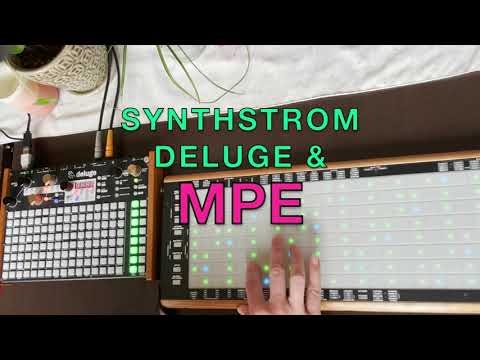 You can download the new update (free for all users) from here: https://synthstrom.com/product/deluge/#downloads
Place the .bin file on your SD card, make sure there are no other .bin files on there. Put the card back in your Deluge, hold down the shift button and switch on. A spinning animation will display and the firmware will be permanently installed
Download our updated manual by Synthdawg
https://synthstrom-audible-deluge.s3.us-east-2.amazonaws.com/Deluge-Guidebook-4p0.pdf
You can download just the changed/added pages
https://synthstrom-audible-deluge.s3.us-east-2.amazonaws.com/Deluge-Guidebook-4p0-edits-only.pdf
Download the updated community guide
https://synthstrom-audible-deluge.s3.us-east-2.amazonaws.com/Deluge-Community-Guide-4p0.pdf
All Deluges ordered from today will ship with the new 4.0 firmware.
Buy a Deluge now $999USD +shipping (receive in 3-5 business days)
https://synthstrom.com/product/deluge/
Post edited by Ian_Jorgensen on