Home
›
News
Grains (NZ) jamming on the upcoming 3.2 Deluge firmware
Ian_Jorgensen
Wellington, New Zealand
Staff
Posts: 362
edited December 2020
in News
Grains having a jam, showing a few upcoming 3.2 firmware features:
Euclidean sequencing & performative step entry possibilities (knob dial rather than grid input)
individual kit row lengths
moving an entire 'row' of steps in a kit horizontally (in addition to currently being able to move all steps in a kit, and one individual step)
New playback directions: reverse and ping-pong (can be set individually per clip)
Not shown here but in same workflow, random playback options coming also.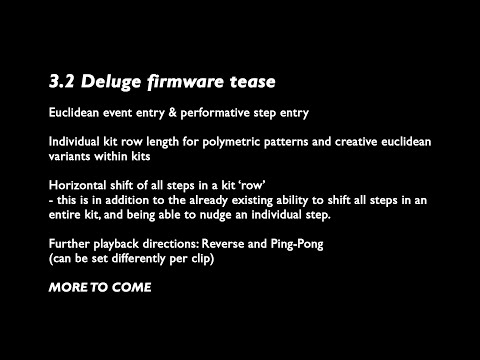 Anticipated firmware release, early 2021.
More features being teased soon.
Post edited by Ian_Jorgensen on